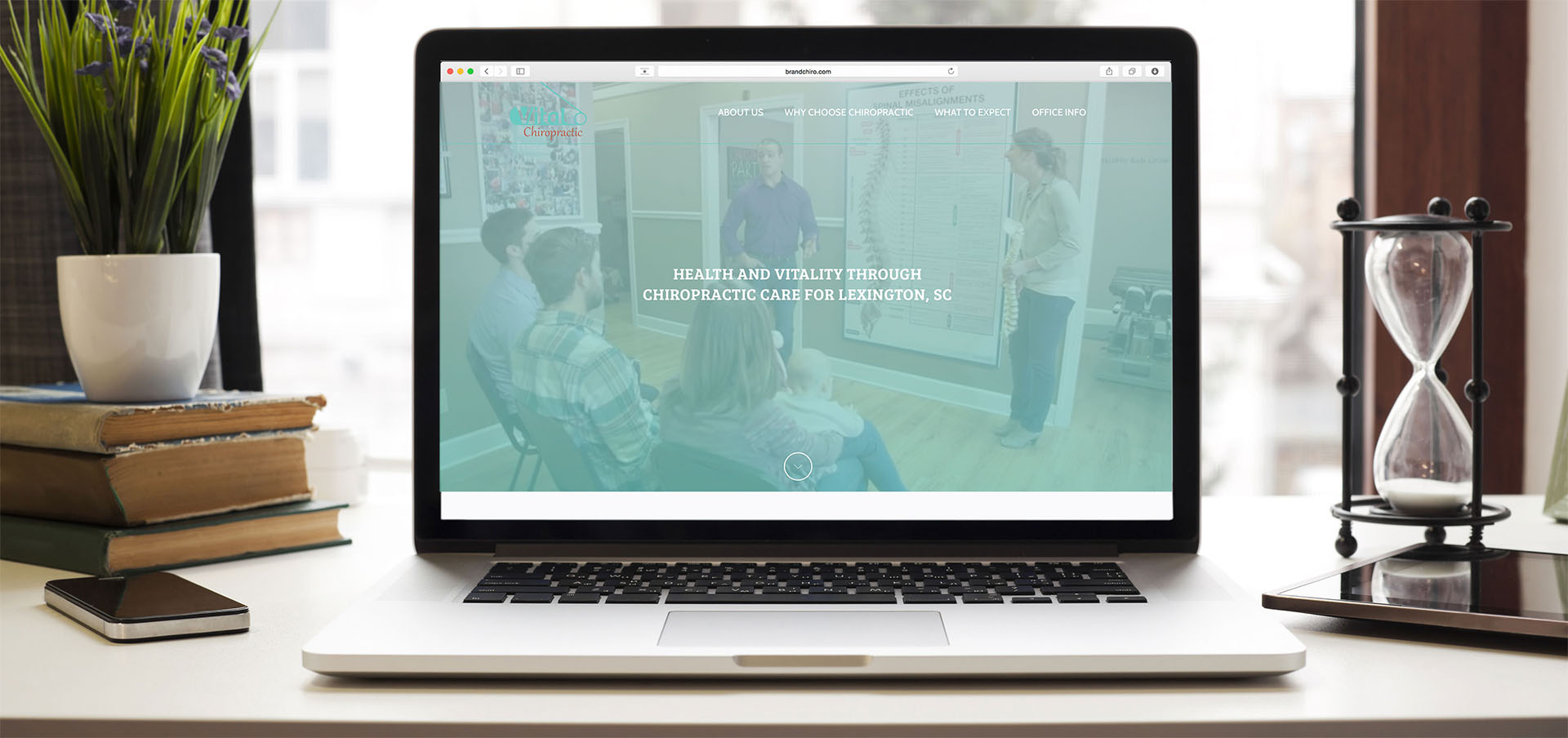 BRAND CHIRO WEBSITES
Your website is the online home where your patients can find you at any time. It is the first step in your marketing and advertising journey. With this in mind, we carefully craft your chiropractic website to be seamless, modern, clean and easy to navigate. Our custom chiropractic websites reflect your style and branding while visually and verbally telling your chiropractic story in an easily accessible way. Every Brand Chiro site is multifunctional and can include video, social media, patient community support, and informative blog content. All of these pieces work together to create a wealth of information for your patients and build a clear window into your chiropractic care.  We want our Brand Chiro partners to feel like they have a hand in making their website without actually having to do any of the work. It's the best of both worlds!
Why are we different?
No Templates Here
While many of our websites operate in similar formats, you will never see two that look exactly the same. We hand-craft each website to fit your brand and mission. Many website providers simply just add your logo and photo into their templates. Our mission is to give you a custom chiropractic website while maintaining a layout and system that works and proven with other clients.
Custom Written Text Content
Our custom written content was created to be easily read while educating potential patients on the benefits of chiropractic. This copy-written content is specifically for Brand Chiro partners and is constantly updated and improved. It's written specifically for today's modern chiropractic audience. It's easy to read, but gives just enough detail so your potential patients understand chiropractic. We allow you to edit this content how you'd like to make sure it fits you perfectly. (Note: This content is copyrighted and cannot be shared with non-Brand Chiro clients).
Incredible Photos
For local clients, we provide a professional photo shoot. These are some of the best photos of chiropractic that you'll see! If you're outside of the Southeast region (Atlanta), then we make sure you have high quality photos to use on your site. This is done by a local photographer near you who either you find, or we help locate for you. We make it a MUST that all of our partners agree to do a photo shoot. In addition, we also custom pick stock photography that fits your brand and mission. Each Brand Chiro website has a different set of stock photos.
Online Listing Service
Our online listing service is one of the most valuable assets we provide. Those listings of your business online don't just magically happen. To ensure that you're on Google, Yelp, Bing, YP and more, you need to list your office there. This service lists you in dozens of places online that improve your SEO, allow people to find you easier, and inform them of phone numbers, address and hours. This alone is worth $400/year!
A LEGIT EMAIL ADDRESS
We use G Suite (formerly Google Apps for Work) for all of our client email addresses. You'll receive one FREE Google email address with your monthly plan. It's the power and security of Gmail, but with a professional looking email address with your website URL. Each additional email is only $5/month/email. Even if you don't choose us, use our referral link below to get a free trial.
Pricing
Website Package  – $1,500
All of our websites come with custom chiropractic text content, stock photography specific to your website, and design.  We handle the complete creation from getting your domain name, all the way to launching your website.
Photography  – $250
We require fantastic photos for our websites, and will need every Brand Chiro partner to have a photography session.  These are photos of you working with patients, providing assessments, and headshots.  We offer photography for any client in the Atlanta area.  If you're outside of our area, we can arrange a photographer for you or let you use one of your choosing.  You will be responsible for their fee (an average of $300).
Are you a student and haven't opened your office yet?  You have two options for photography:
Take photos at another Doc's  BEFORE you open your practice.  This allows you to have a fully completed website when you open, but doesn't show off your personal office space.
Take photos AFTER you open your practice.  Your website won't be fully finished when you open, but you'll have photos of your actual office and won't have to spend money taking photos later down the road.
Monthly Partnership
Every Brand Chiro website requires a monthly fee of $70 in addition to your project price. We look at this as a partnership rather than just a standard fee. We give you once per month updates that you request: employee changes, event announcements, new pages and more. We provide all necessary maintenance and hosting. To wrap it all up, you get complimentary marketing consultations if you ever have questions about creating new materials. Video or poster ideas? Email newsletter campaigns? Ask us anytime about direction for anything like this and we'll do our best to inform you.
Looking for a 15% Discount?
In honoring affordability for great chiropractic websites, Students and Amped members receive a 15% discount on the prices listed above.  Contact us for the discount code.