How Chiropractic SEO Increases Traffic and New Patients
Chiropractic Care Search Trends
Search Engine Optimization, otherwise known as SEO, is something that has taken over in digital marketing in the last couple of decades and for good reason. It can make or break your business if you are in an industry that relies on people going to Google to solve their problems. 
Chiropractic care is something that people are searching for quite frequently, and that frequency has only increased over the years. We need not look any further than Google Trends to tell us that the searches for "Chiropractor Near Me" have increased almost 10x over the last 5 years. 
This trend is only going to continue as younger generations who turn to the almighty Google rather than their neighbor for recommendations and referrals start adulting. It is only a matter of time until they start experiencing neck and back issues with all of that time spent on their phones, am I right? ;)  


How SEO Works For Chiropractors
There are many ways to get new patients as a chiropractor and some of the tried and true methods are certainly worth sticking with, but I want to simply convince you that SEO needs to be a part of your holistic approach to chiropractic marketing. 
The way SEO works for chiropractic practices is it provides searchers with relevant information for their search term. So if someone were to search for "Chiropractor Near Me", Google would return results for just that. If they were to search for "Easy Stretches For Backpain" they could also find a chiropractor near them. 
That is just the approach you want to be taking and the terms you want to start ranking for. The best way to do this is to create pages and blogs on your website that answer these questions and offer great advice. 
I can hear several of you say, "But they aren't searching for a chiropractor, they are searching for stretches", and you would be right, but what if they land on your website after you wrote an amazing blog post about 5 Amazing Stretches You Can Do From Home For Lower Back Pain, and then they poked around your site, visiting your About page, the Homepage, reading some amazing reviews, and then eventually the Contact page because they now realize that seeing an expert may be a good idea. 
Well, that is basically how it all works. You create content that your potential patients would find valuable and then provide the guidance from that blog post to your contact page and suddenly your bookings start happening on their own. 
More To The Story
There is much more to the story in terms of technical website updates, constant monitoring of your site's performance to make improvements, tracking your competition to see what keyword ideas you can get from them, creating links back to your website from other reputable sites in the chiropractic space, and so much more. 
But my goal was not to overwhelm you with all of the technical details in how this all works, but rather to simply convince you that chiropractic SEO is here to stay and can help you grow your practice in really big ways. 
A Chiropractic SEO Case Study
Just to give you some context and help set expectations on just how this process works and how long it may take to get results we have provided some data from a recent client success story. We managed to launch a brand new website, get it to start ranking within just six weeks, and then within 3 months, they were in the top 3 positions for multiple keywords related to their services. 
We launched the site the second week of September in 2019 by the end of October they were already ranking in Google and by early January they skyrocked to several top positions and we have seen a steady climb ever since. The best part is we are just getting started.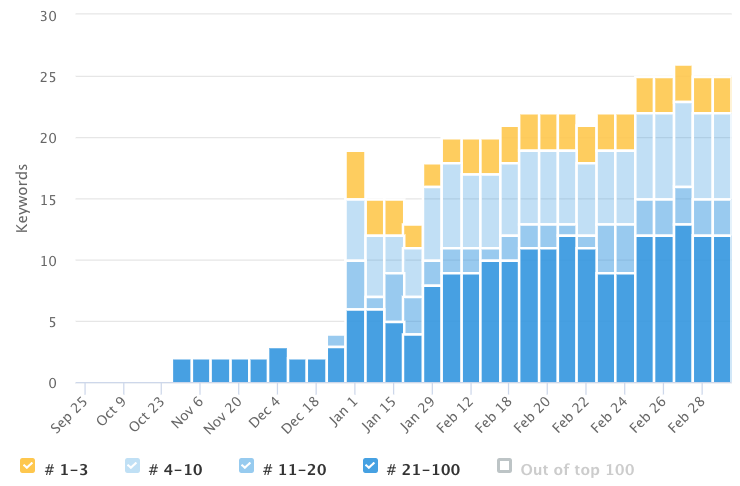 If that doesn't get you excited about SEO for your practice than these numbers may do the trick. Between the months of October and February, we saw an increase in users by 274%, New Users by 253%, and an increase in time spent on-site by 121%.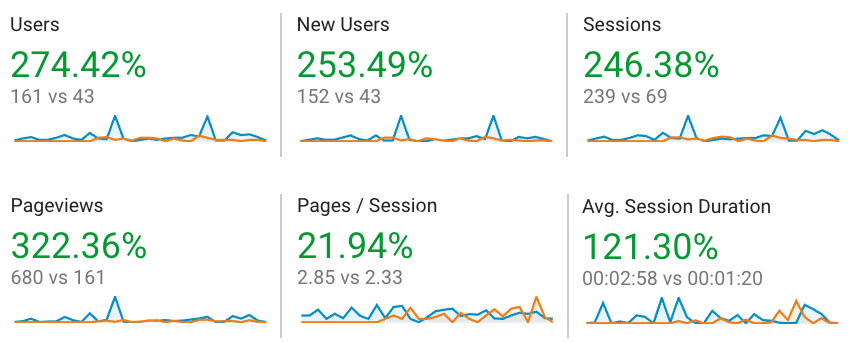 These success stories are what really gets us excited about what we do. We absolutely love each and every one of our clients and thoroughly enjoy helping them reach more people with chiropractic marketing. If you'd like to see results like these feel free to contact us today.